Canadian housing starts declined in March
4/8/2020 | SHARE
Posted in Canadian Housing Market by Crescendo Realty| Back to Main Blog Page
The trend in housing starts was 204,717 units in March 2020, compared to 209,109 units in February 2020, according to Canada Mortgage and Housing Corporation (CMHC). This trend measure is a six-month moving average of the monthly seasonally adjusted annual rates (SAAR) of housing starts.
"The national trend in housing starts declined in March, likely indicating that the COVID-19 pandemic has begun to impact residential construction activity." said Bob Dugan, CMHC's chief economist. "Activity in Toronto and Montréal trended lower, reflecting broader declines in their respective provinces. While Vancouver registered an up-tick, it was not sufficient to offset an overall decline in British Columbia. Activity trended lower in the Atlantic region, but conditions were mixed in the Prairies, as lower activity in Saskatchewan was offset by higher activity in Alberta and Manitoba."
Like many other government organizations, businesses and individuals, we are closely following developments around COVID-19. CMHC is stress-testing pandemic scenarios to assess impacts as events unfold. The monthly release of our Preliminary Housing Starts data will continue as planned. CMHC will continue to monitor this issue and report any impact on our ability to collect housing data.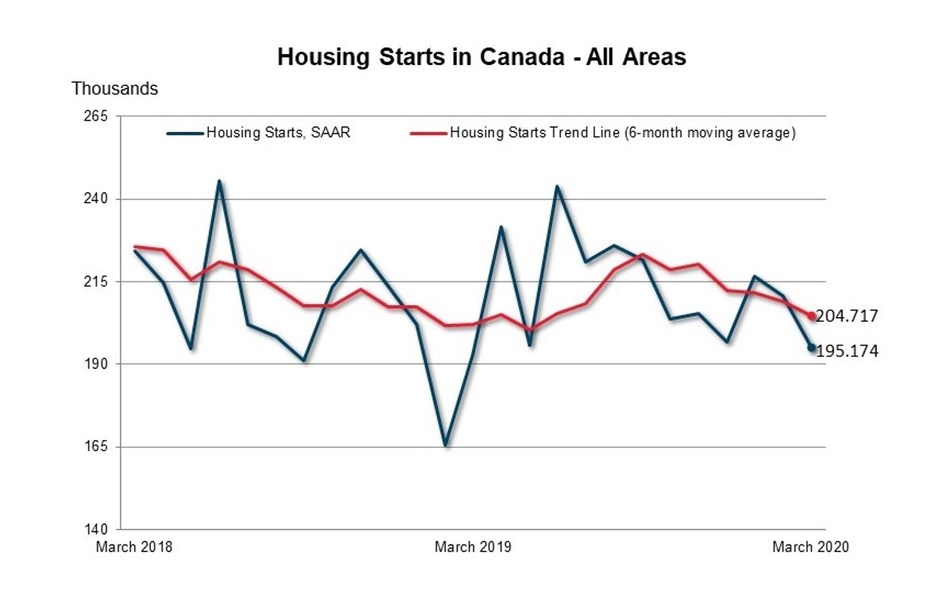 CMHC uses the trend measure as a complement to the monthly SAAR of housing starts to account for considerable swings in monthly estimates and obtain a more complete picture of Canada's housing market. In some situations, analyzing only SAAR data can be misleading, as they are largely driven by the multi-unit segment of the market which can vary significantly from one month to the next.
The standalone monthly SAAR of housing starts for all areas in Canada was 195,174 units in March, a decrease of 7.3% from 210,574 units in February. The SAAR of urban starts also decreased by 7.3% in March to 182,553 units. Multiple urban starts decreased by 13.4% to 124,073 units in March while single-detached urban starts increased by 8.8% to 58,480 units.
Rural starts were estimated at a seasonally adjusted annual rate of 12,621 units.
Canadian Housing Market, Canadian Real Estate Market Outlook, Housing Starts, New Developments