Canadian housing starts increased in July
8/11/2020 | SHARE
Posted in Canadian Housing Market by Crescendo Realty| Back to Main Blog Page
The trend in housing starts was 204,376 units in July 2020, up from 199,778 units in June 2020, according to Canada Mortgage and Housing Corporation (CMHC). This trend measure is a six-month moving average of the monthly seasonally adjusted annual rates (SAAR) of housing starts.
"The national trend in housing starts increased for a second month in July," said Bob Dugan, CMHC's chief economist. "Higher multi-family starts in major urban areas, including Toronto, Vancouver and oil-producing centres in the Prairies drove the national increase. Following declines in previous months from COVID-19 measures, higher activity in June and July leaves the trend in housing starts in line with the long-run average level of housing starts. We expect national starts to trend lower in the near term as a result of the negative impact of COVID-19 on economic and housing indicators."
CMHC uses the trend measure as a complement to the monthly SAAR of housing starts to account for considerable swings in monthly estimates and obtain a more complete picture of Canada's housing market. In some situations, analyzing only SAAR data can be misleading, as they are largely driven by the multi-unit segment of the market which can vary significantly from one month to the next.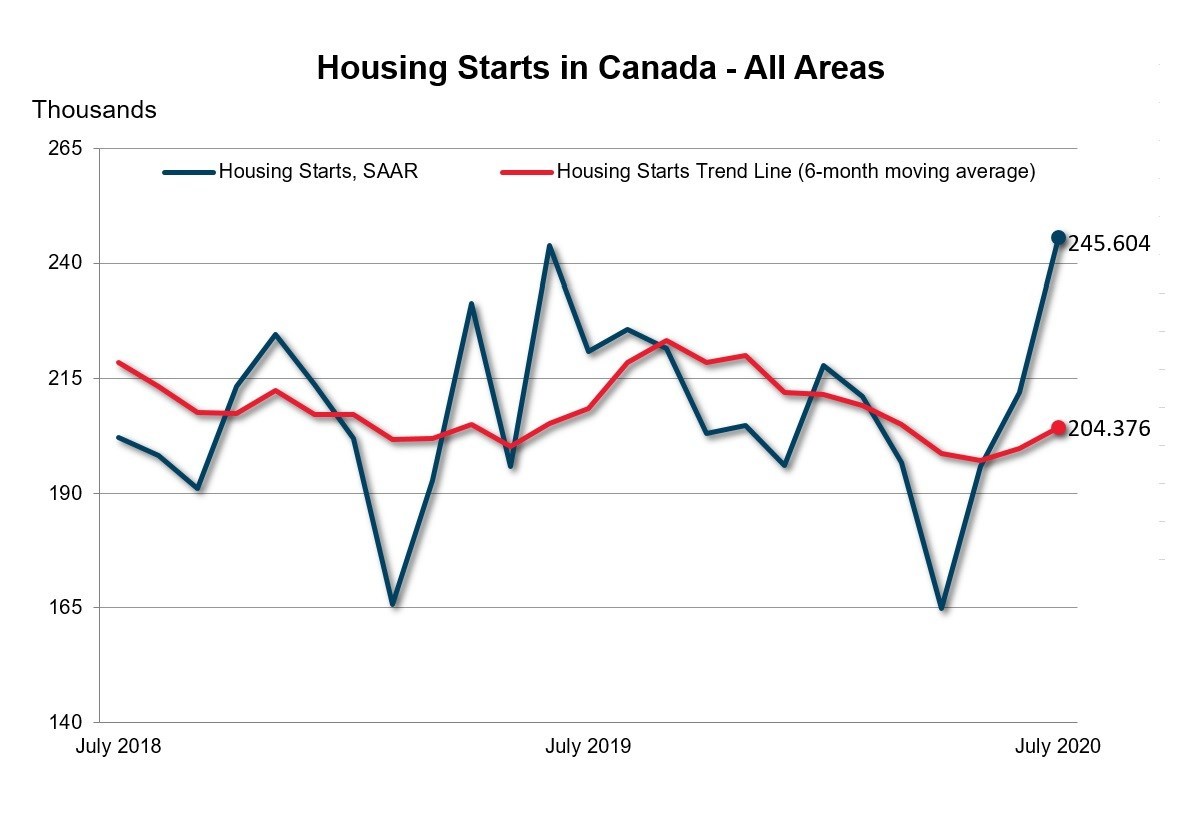 The standalone monthly SAAR of housing starts for all areas in Canada was 245,604 units in July, an increase of 15.8% from 212,095 units in June. The SAAR of urban starts increased by 17.4% in July to 231,995 units. Multiple urban starts increased by 18.8% to 184,431 units in July while single-detached urban starts increased by 12.3% to 47,564 units.
Rural starts were estimated at a seasonally adjusted annual rate of 13,609 units.
For the full report click here.
Canadian Housing Market, Canadian Real Estate Market Outlook, CMHC, Housing Starts