Canadian housing starts trended lower in December
1/10/2020 | SHARE
Posted in Canadian Housing Market by Crescendo Realty| Back to Main Blog Page
There was a decline in the 6-month moving trend in Canadian housing starts in December.
New figures from CMHC show a trend of 212,160 units, down from 219,921 in November.
"The national trend in housing starts decreased in December," said Bob Dugan, CMHC's chief economist. "The declines are primarily led by lower-trending multi-family starts in Toronto, Montreal and Ottawa. However, the stable starts at year-end in Vancouver and significant growth in Calgary helped to partially offset the declines in other major centres."
The standalone stats for December show a 3% decrease month-over-month, taking the seasonally adjusted annual rate of housing starts down to 197,329 from 204,320 in November. Rural starts were estimated at a SAAR of 11,395 units.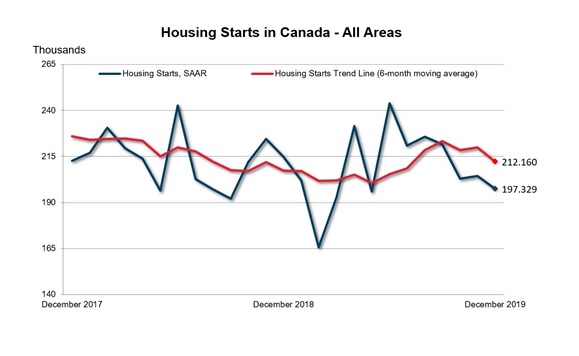 The decline highlights concern expressed this week by BoC governor Stephen Poloz regarding the disparity between housing supply and demand.
Canadian Housing Market, Canadian Real Estate Market Outlook, CMHC, Housing Starts, New Condos, New Developments, New Homes