How much does the average Canadian family earn?
2/27/2020 | SHARE
Posted in Canada Living by Crescendo Realty| Back to Main Blog Page
The median after-tax Canadian income for families and unattached individuals barely moved in 2018 compared to 2017 according to newly released data.
Statistics Canada's Canadian Income Survey shows a $61,400 figure for 2018. Although for non-senior families where the main income earner is under 65, the median was $91,600, up $2,300 from a year earlier and among these families couples with children saw their median after-tax income increase by $2,700 to $101,900 in 2018.
The highest earners were in Alberta where the median for unattached individuals and families was $72,700, while those in Nova Scotia were bottom of the league with $52,200.
There was little change for most provinces but Ontario saw a 3.3% year-over-year increase in 2018 to $66,200.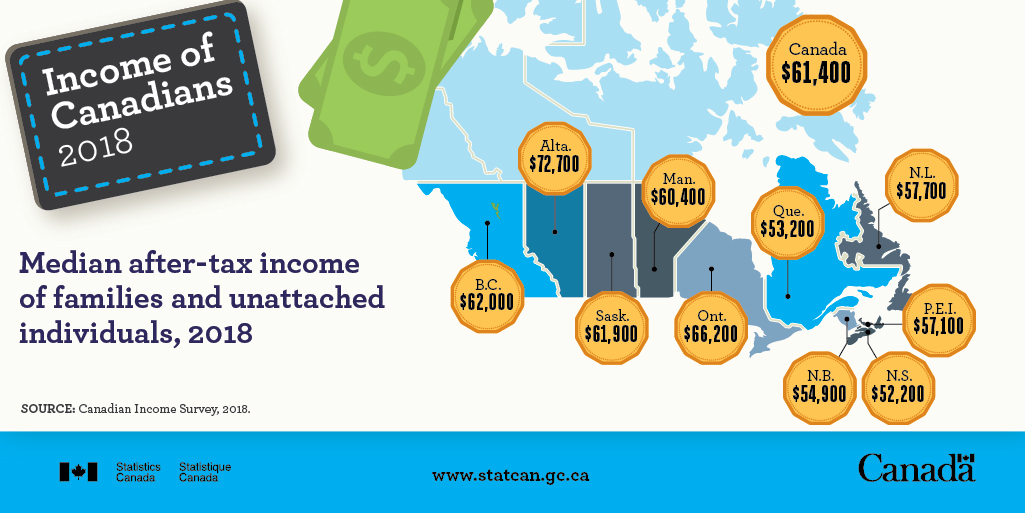 Growing middle class
The survey found that over 1 million Canadians have been lifted out of poverty since 2015, and that the poverty rate in Canada continues its downward trend. More Canadians joined the middle class.
"The Government of Canada is committed to growing the middle class and helping those working hard to join it. Today's announcement is further proof that our plan is working. However, we know there is much more to do. That is why we will keep working hard to reduce poverty and make sure that every Canadian has a real and fair chance to succeed," said Ahmed Hussen, the Canadian government's Minister of Families, Children and Social Development.
Canada Living, Statistics Canada