Soaring House Prices Could Return As Interest Rates Head To Zero: BMO
8/10/2019 | SHARE
Posted in Mortgages and Real Estate by Crescendo Realty| Back to Main Blog Page
The recent slowdown in Canada's hottest housing markets is turning a corner and a potential new price boom is threatening to frustrate would-be buyers' hopes.
The real risk to Canada's housing market today is not a crash, but a return to nosebleed levels of price growth thanks in part to falling interest rates, said Doug Porter, chief economist at Bank of Montreal.
Policymakers will have to "be ready to wield some tough measures" if they want to prevent housing costs from becoming even more unaffordable, Porter told HuffPost Canada ― though he said he would "leave it to policymakers" to decide what those should be.
The latest data from the Toronto and Vancouver real estate boards shows the markets shaking off foreign buyers' taxes and the mortgage stress test. Home sales jumped 24 per cent in both cities in July, compared to a year earlier.
Much of that has to do with more affordable mortgages. The collapse in interest rates on government debt around the world in recent months has pushed down the rates Canadian lenders can offer.
According to comparison site Ratehub, mortgage rates in Canada recently hit their lowest levels since July, 2017, and are near all-time record lows. The lowest fixed rate available at the site is currently 2.39 per cent, a drop of 0.8 percentage points since the start of this year.
The Bank of Canada's posted rate, which is used in the mortgage stress test, has also come down, to 5.19 per cent, from 5.39 per cent.
This "simply pounds home the point that rates will remain low for long — or forever," Porter wrote in a client note.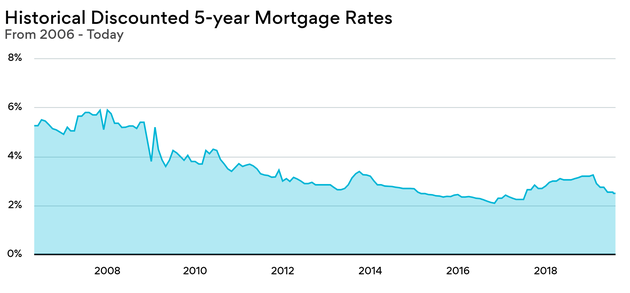 He worries that a return to house price growth will convince speculators and foreign buyers to jump back into the market.
"Domestic policymakers may need to consider other ways to control speculation — especially from abroad — in a world where interest rates stay below inflation, or even below zero," he wrote.
'No limit' to house prices
But with housing affordability near its worst levels on record, how much room do house prices really have to run?
"When you're looking at a market that becomes driven by wealth, and wealth from outside the city limits, then there isn't necessarily a limit to house prices," Porter said.
"You don't have to look hard to find places around the world where prices have divorced from fundamentals," he added, citing Hong Kong, the world's least affordable housing market.
"I don't think its too early to start planning for the housing market to start getting too hot for comfort again."
Source: Huffington Post
Canada Real Estate, Canadian Home Sales, Canadian Housing Market, Canadian Mortgage Market, Condo Prices Toronto, Home Buyers, Home Prices, House Prices, Toronto Real Estate Prices